News
How to Start A Home Decor Business
by Editorial Team on Oct 10, 2023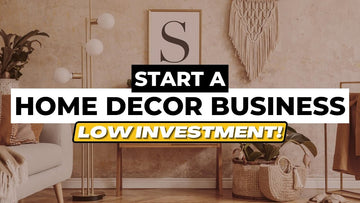 The home decor industry is booming, with more people wanting to transform their living spaces into stylish, comfortable havens. The demand for unique home decor items has risen. This growing trend presents a golden opportunity for aspiring entrepreneurs looking how to start a home decor business. Define your opportunity and target audience, create a business plan, source products, establish an online presence, and promote your brand through marketing and networking. Not only does this industry have tremendous potential for profitability, but it also allows individuals to showcase their creativity and passion for interior design. So, if you've ever dreamed of turning your love for home decor into a thriving business, now is the perfect time to take off on this exciting journey.
Learn how to start a home decor business with insights from NZR Furniture.

Is Home Decor a Good Business? 
If you're a new business person looking for an opportunity in the market, the home decor industry might be the perfect fit. The current market trends and demand for products and see if this is the right business venture for you.
Home decor can indeed be profitable when executed. This unique product market is experiencing rapid growth, with soaring demand for its offerings. Stores in this industry enjoy impressive profit margins ranging from 30% to 40%. The international home decor market is projected to grow substantially, with an estimated increase from $651.85 billion in 2022 to $683.52 billion in 2023. It will represent a compound annual growth rate (CAGR) of 4.9%. 
It presents a golden opportunity for a healthy return on investment. However, success requires careful market research, a strong business strategy, and staying current with trends. With the proper planning and execution, the home decor business holds great potential for success.
Discover furniture ideas to enhance your home decor business on NZR Furniture's Futons collection.

Market Trends and Demand for Home Decor Products
The demand for home decor products is rising as people focus more on creating stylish and personalized living spaces. It presents a promising opportunity for aspiring entrepreneurs.
The COVID-19 pandemic has also contributed to the surge in demand for home decor items. People spending more time at home want to transform their living spaces into comfortable environments. It has led to increased sales of home decor items such as furniture, lighting, rugs, wall art, and accessories.
Moreover, the popularity of home decor on social media platforms has further appealed the demand. Beautiful home interiors showcased on these platforms inspire people and create opportunities for creative entrepreneurs to introduce unique and trendy home decor products.
Explore the synergy of home decor and loveseats with NZR Furniture's Sofa Loveseats collection.

Current Challenges for Starting a Home Decor Business
Are you a passionate entrepreneur looking to enter the world of home decor? While it's an exciting venture, it comes with its challenges. Let's explore some common hurdles:
Evolving Consumer Trends:

To succeed, you must stay attuned to consumer preferences, market demands, and emerging trends. Conduct market research, follow influencers, and attend trade shows to understand what consumers seek.

Intense Competition:

The home decor market is competitive. To stand out, determine your Unique Selling Proposition (USP) and highlight it in your marketing initiatives.

Establishing a Strong Online Presence:

A robust online presence is vital in today's digital environment. Create an appealing website, optimize it for search engines, and maintain an active social media presence.

Supply Chain Management:

Managing the supply chain is critical. Build strong relationships with reliable suppliers and streamline operations for timely product delivery.

Financial Considerations:

Starting a home decor business requires a significant financial investment. Explore funding options like small business loans, crowdfunding, or investors with a sound financial strategy to check cash flow and expenses.
Overcoming Challenges in the Home Decor Items Industry
Overcoming the unique challenges of the home decor industry requires adaptability and a proactive approach, like any other business.
Research evolving design trends and consumer preferences, and engage with the industry to keep your brand relevant.

Compete with established brands by building a strong brand identity. It is delivering exceptional customer service and implementing effective marketing strategies.

Establish streamlined systems and maintain open communication with suppliers. It ensures efficient inventory management and quality control.
How to Start a Successful Home Decor Business Online
Starting an online home decor business can be rewarding and profitable with the rise in e-commerce popularity and the need for unique and fashionable home decor products. These are steps to start your own successful online home decor business.
1. Conduct Market Research and Identify Your Target Audience
Conducting thorough market research is essential before diving into the home decor business. Discover the needs, tastes, and purchasing patterns of your target market. You can use this knowledge to choose products that appeal to your potential clients.
2. Define Your Unique Selling Proposition (USP) and Brand Identity
To stand out in the competitive online home decor market. Establishing a strong brand identity and defining your unique selling proposition (USP) is necessary. Determine what differentiates your business from others and use that differentiating factor to attract customers.
3. Source Quality Products and Establish Supplier Relationships
Building a successful home decor business depends on the quality of your products. Research and source high-quality products that align with your brand and target audience's preferences. Establish relationships with reliable suppliers who provide you with the necessary inventory.
4. Set Up a Professional Website and E-commerce Platform
A professional website is the backbone of your online business. Invest in a website that looks good and displays your products. Choose a reliable e-commerce platform that provides seamless shopping experiences and secure payment options for your customers.
5. Develop a Marketing and Sales Strategy
It would be great to have a well-defined marketing and sales strategy to improve sales and increase visitors to your online store. To sell, use digital marketing strategies, including social media, email marketing, content marketing, and search engine optimization (SEO). Connect with your target audience through your products.
Get inspired to create stunning living room decor, courtesy of NZR Furniture's Living Room collection.

How to create an online store and sell home decor products online
To sell home decor products online, create an attractive website or online store, showcase high-quality product images and descriptions, promote your offerings through social media and digital marketing, and ensure smooth inventory and shipping management for customer satisfaction.
Choose a Domain Name and Hosting Provider
You need a unique domain name to establish a strong online presence. Once you've decided on a domain name, choose a reliable hosting provider to ensure optimal website performance.
Select an Appropriate E-commerce Platform and Customize the Store
Your online store's success depends on selecting the best e-commerce platform. Consider platforms like Shopify, WooCommerce, or BigCommerce. These platforms offer interfaces, customizable templates, and a range of features to help you create an appealing online store.
Optimize Product Listings and Create Compelling Descriptions
Take high-quality photographs of your home decor products from different angles and in various settings. Optimize your product descriptions by highlighting key features, benefits, and unique selling points. 
Implement Secure Payment Gateways and Shipping Options
Integrate safe payment processors like PayPal, Stripe, or Square to provide your consumers with various payment alternatives. Also, provide clear and transparent shipping options with calculated rates to avoid confusion during checkout. Consider offering free shipping or incentives for larger orders to encourage sales.
Enhance your home decor offerings with stylish coffee and end tables from NZR Furniture.

Market Your Home Decor Business Online
Building a credible internet presence is crucial to implementing the right strategies to succeed. It will enable you to connect with your target market and increase your brand's exposure. Here are some practical ways to market your home decor business online:
Develop a Digital Marketing Strategy
Determine your target market first, then learn how they behave online. This initial step will help you tailor your marketing initiatives to reach the right audience. With a clear understanding of your audience, you can utilize various digital marketing methods to promote your brand. Consider social media advertising, content marketing, and forming influencer partnerships to maximize your reach and engagement.
Search Engine Optimization (SEO)
Comprehensive keyword research is crucial for attracting organic traffic and optimizing your website. Analyzing search engine trends, your website's performance, and product pages will allow you to identify specific search keywords that resonate with your target market, enabling better connections with them.
Social Media Marketing
Social media networks provide fantastic chances to connect with your target audience and raise brand exposure. Create compelling, shareable content that showcases your home decor products. Additionally, consider broadening your reach and driving traffic to your website by launching targeted social media advertising campaigns.
Email Marketing
Email marketing is still a successful technique for growing customers and increasing revenue. Encourage customers to sign up by offering incentives such as exclusive discounts or complementary resources. Once you have a subscriber list, send targeted email campaigns promoting your home decor products.
Conclusion
Starting a successful home décor business may be exciting and rewarding. By following the steps, you can set yourself up for positive results. Conduct thorough market research, create a solid business plan, establish a strong brand identity, and use effective marketing strategies. To be competitive, keep up with the most recent trends and innovate your goods and services. Dedication, passion, and a strategic approach can turn your love for home decor into a profitable and thriving business. Good luck on your entrepreneurial journey!